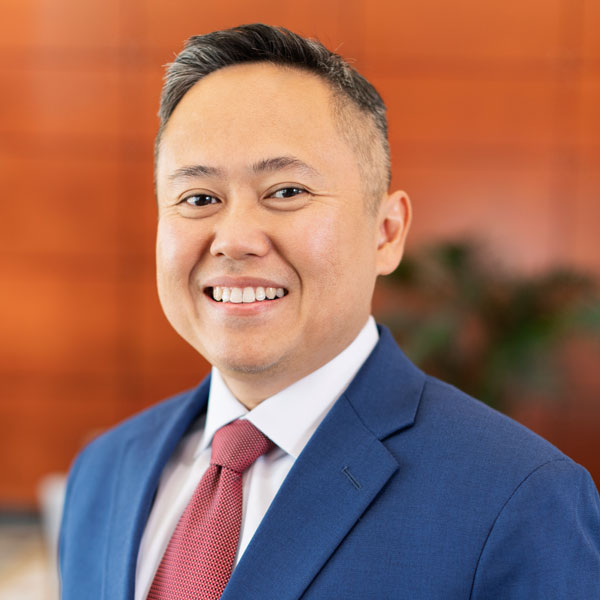 Lam Q. Nguyen focuses on the areas of estate planning, guardianship and probate. He has practiced in these areas for five years and handles all of the firm's guardianship and probate matters.
Lam graduated with honors from the University of Oklahoma. After receiving his MBA at the Meinder's School of Business, he earned his J.D. from Oklahoma City University School of Law. Lam's background in business gives him added insight into the challenges faced by his clients.
Lam is committed to "giving back" and is active in the community. He has been involved in Leadership Oklahoma's LOYAL program as well as other charitable organizations such as Mobile Meals and the Cox Foundation. He continues to volunteer for various charities serving the senior community. In addition, Lam is a Board Member of F.A.I.T.H. Kids and a Board Member of Oklahoma County Courthouse Access Clinic.
Born in Saigon, Vietnam, Lam has lived in Oklahoma City since he was three years old. He is married with two children, and three dogs. In addition to spending time with his family, Lam enjoys running marathons, cycling, tennis, traveling, cop shows, and serving as an enthusiastic but unpublished food critic.
Oklahoma City University School of Law, J.D.
Oklahoma City University, MBA
University of Oklahoma, B.A. (Letters) Cum Laude
Oklahoma
All District and Federal Courts in Oklahoma
Estate Planning
Guardianship
Probate
American Bar Association
Oklahoma County Bar Association
WealthCounsel
Board Member, F.A.I.T.H. Kids
Board Member, Oklahoma County Courthouse Access Clinic