Austin Meyer
Associate Attorney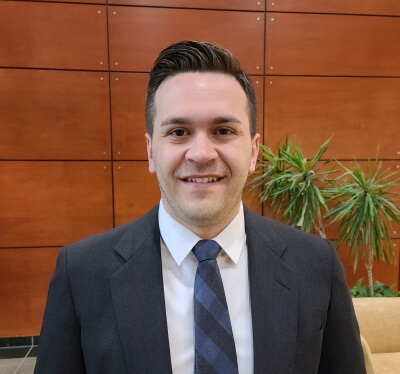 Austin Meyer is an associate attorney with Graft & Walraven, PLLC. His career has been primarily focused in the practice areas of natural resources, including oil and gas law, and real property law. Austin also has experience with municipal, construction, and insurance law. Austin particularly enjoys appellate work and obtained his first published decision from the Oklahoma Supreme Court in December of 2020. Austin has experience negotiating with the private sector oil and gas companies as well as governmental entities and has recovered in excess of $3.5 million in damages and settlements for Oklahoma landowners.
Born in Enid, Oklahoma and raised in Alva, Oklahoma, Austin is a lifelong resident of Oklahoma and a proud western Oklahoman. Austin attended college at Northwestern Oklahoma State University where he graduated with his Bachelor of Science in Political Science. Subsequently, Austin earned his law degree from Oklahoma City University School of Law where he also obtained a Certificate of Legal Research and was a member of the OCU Energy Law Association.
Austin can strike up a friendship with anyone that can talk about sports. He also enjoys playing guitar/writing songs, being with his family, and making people laugh.
In the state of Oklahoma – 2014

In the federal district of the Northern District of Oklahoma – 2014
In the federal district of the Eastern District of Oklahoma – 2014
In the federal district of the Western District of Oklahoma – 2014
Northwestern Oklahoma State University – 2011
Oklahoma City University School of Law – 2014
Johnson v. CSAA Gen. Ins. Co., 2020 OK 110, 478 P.3d 422, as corrected (Dec. 18, 2020)